Shopping Cart
Your Cart is Empty
There was an error with PayPal
Click here to try again
Thank you for your business!
You should be receiving an order confirmation from Paypal shortly.
Exit Shopping Cart
| | |
| --- | --- |
| Posted on February 11, 2020 at 1:30 AM | |
Who-cooks-for-you? Who-cooks-for-you? Have you ever heard this hoot during dawn or dusk coming from the woods or a tree near your home? If so, chances are you've heard a Barred Owl! At Allison Woods, we hear this often from Jack, one of our Animal Educators!
Jack, like our other birds of prey, was deemed non-releasable due to being hit by a car resulting in severe damage to his right eye. This is a common injury in local birds of prey, as people throw trash and other materials out that attract small rodents, the owls are prone to be looking for food beside the highway.
Barred Owls have a distinct facial disk with brown eyes and a yellow beak. They tend to have light brown coloring with darker bands on their chest giving them the "barred" look. They also have feathers under their necks that appear like a built in scarf. Barred Owls are known to have many feathers, upwards of almost 9,000! An Eagle is known to have only about 7,000 feathers!
Like other birds of prey, Barred Owls eat small rodents, including squirrels, chipmonks, mice, voles, rabbits, birds, amphibians, reptiles, and invertebrates. They will sit on top of trees, power poles, or other high perches and watch the ground below. Owls are silent hunters, meaning they fly silently due to their wing structure! This gives them the ability to sneak up on their prey!
To learn more about the barred owl, come see us for your next field trip or visit with us for World Falconry day in November!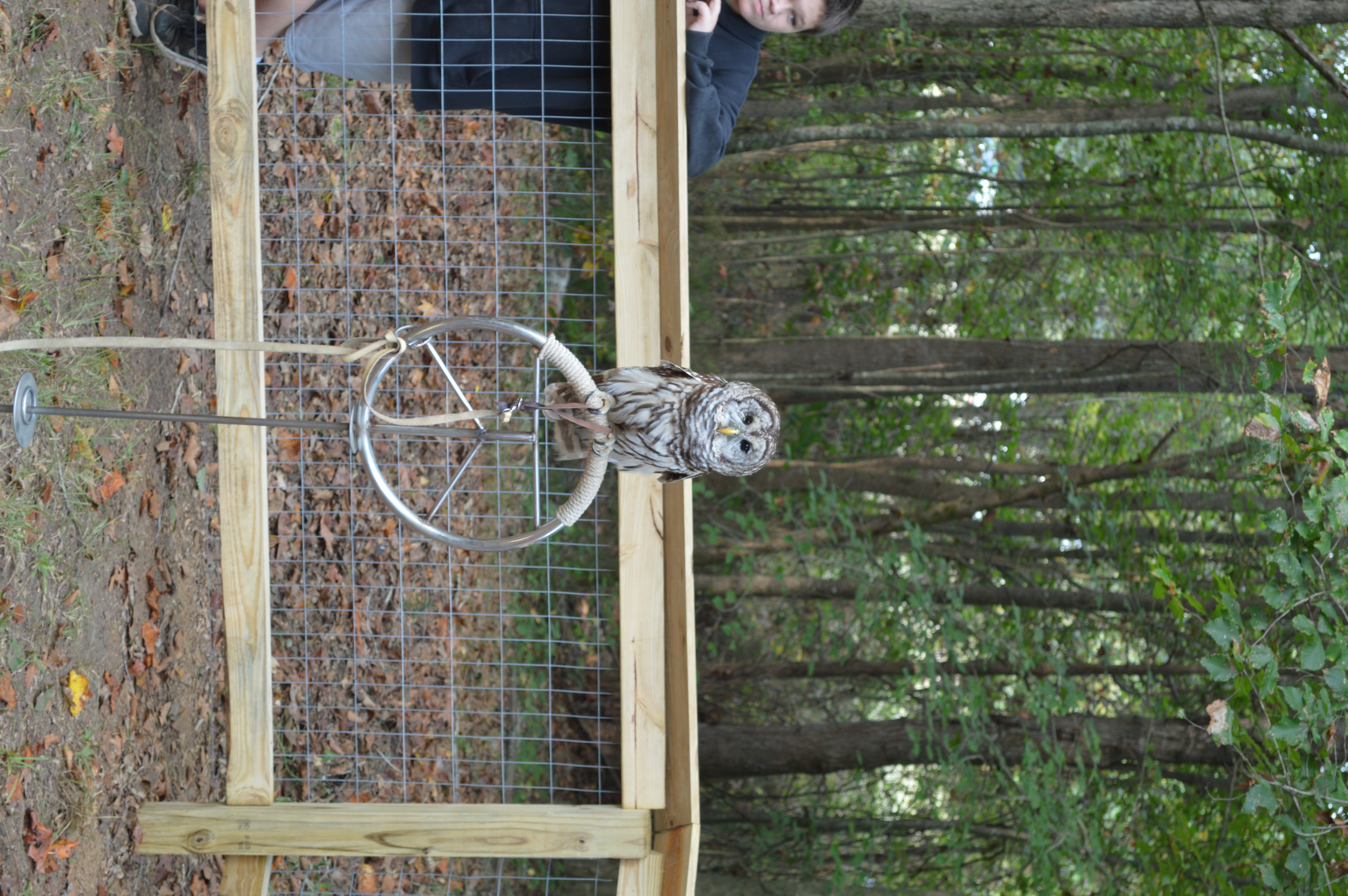 Categories: None
/